Hey Photonauts… In this video, I'm going to show you how to create a beautiful rose gold filter in just a few seconds with Luminar Neo. Unlike the other edits, this one will make your photos look like they were taken in the soft light of sunset.
If you want to use the same photo to practice go to: Pexels.com
How to create a Rose Gold look IG type filter
I will be using Luminar´s Neo color harmony module to add this tone to a bright photo. It is that simple that you will never want to buy a preset or move a lot of sliders in HSL to get it.
Basically, the rose gold tone adds a soft creamy look to the over all photograph that acts like filter that you can manipulate to fit your images.
The way to achieve it in Luminar Neo is by only adjusting the color balance sliders in each of the sections that are shadows, midtones and highlights. You create the rose tone by adding and balancing red/magenta and the gold by adding yellow.
It´s not necessary to apply it to all sections in every photo. What I mean is, that you have to analyze your picture, check the histogram and work the colors in the predominant areas.
I recommend using it on photographs that are very bright or toward to the right side of the histogram. In most of these cases you will only need to work on midtones and highlights since shadows will be very low. But if you want to try it in dark, low key or underexposed photos feel free to do so. I just like how it looks on bright photos.
Below you have screencaptures of the adjustments I used in this photo:
Shadows: No changes
Midtones: 4 | -10 | -13 (Cyan-Red | Magenta-Green | Yellow-Blue)
Highlights: 29 | -20 | -16 (Cyan-Red | Magenta-Green | Yellow-Blue)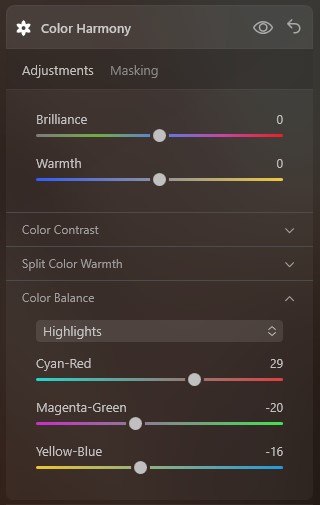 Exposure(optional): Adjust if needed in your photo.
So, the next time you want to remake your social media feed or post, website or create a seasonal series with this tone, you will only need to move a few sliders in Luminar Neo. If you want to check the most recent offer of this software, just go to: ¡Luminar Neo BEST OFFER!
You don't need to be a professional retoucher or photographer to make your photos look great. With some basic lighting and composition knowledge and Luminar Neo you will ramp up in no time.
I hope that you will enjoy applying this Rose Gold filter type of effect to your photos. If you have questions or comments, please leave them in the comment box below this post. I will really appreciate it.
Until the next straight to the point tutorial!!
Blessings,
Jose
One click edits
Edit your photographs in no time with excellent resuts. Presets, AI adjustments to transform your photos from great to WOW!
Change Background
Use the powerful background removal AI system to erase the background and replace it wtih one of your liking.